Tailor-made, strong-framed precast concrete tilt moulds enable the efficient manufacture of diverse precast concrete sections.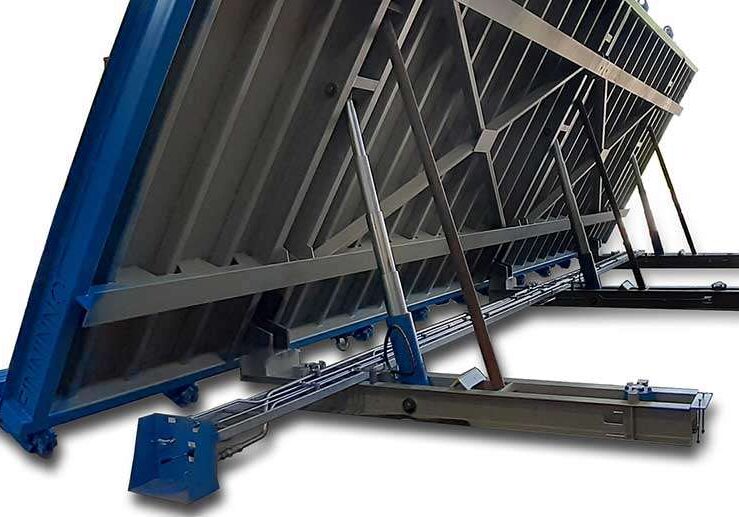 Finninno Tilt Mould is an efficient and versatile mould solution that can be used for manufacturing a wide range of conventional concrete sections, such as sandwich and partition wall sections. The tilt mould can also be used to economically manufacture beam and pillar sections using Finninno's Edge Mould system. The special features required by the manufacturing process of the precast concrete sections and the flexibility of manufacture have been taken into account in the moulds, and they are always implemented according to the customer's dimensions and with the primer and top coat colour specified by the customer.
Get our tilting table mould technology transfer package now and increase the productivity of your construction business by adding value to your customers and speeding up your work processes.
We deliver technology transfer packages world wide, don't hesitate to contact us!
Why the Finninno precast concrete mould technology package is the perfect turnkey solution for your steel workshop?
Benefit from Finninno's 30 years experience in the pre-cast concrete.
Our products are internationally tried and tested no need for you to develop your own mould industry technology.
Instantly have access to all the fabrication drawings you need to start. Future mould drawings from our designers.
Training and support during start of production.
You know your market! Quickly develop sales using our technology produced by you.
Details about the precast concrete table mold
Tilt mould with strong frame
The tilt moulds are equipped with hydraulic tilt cylinders and steplessly adjustable hydraulic vibrators. The moulds are equipped with heating if necessary.
Mould structure
the mould surface is of 8 - 10 mm thick steel plate according to the customer's choice
the flatness of the mould surface is 4 mm over the entire area, and on a circular area with a diameter of 1.5 m flatness is 1 mm
supplied with anti-corrosion coating.
Frame
strong and torsionally rigid structural hollow section frame
DUE TO THE STRONG FRAME, THE PERMISSIBLE LOAD IS 700 kg/m².
Edges
adjustable steel edges with sides according to the customer's wishes
tilt steel section.
Versatile precast concrete section production
efficient and versatile mould for the production of precast concrete sections
can be customised according to customer needs
strong frame and durable.